Full-service digital marketing
agency in Qatar 🇶🇦
We help various startups, business, and enterprises grow in GCC countries
Top-class web development brings you flawless, reliable and cost-effetive web solustions.
Maximise the ROI of your paid advertising campaigns with award-winning PPC.
Search Engine Optimization
Boost your bottom line with conversion-driving SEO campaigns.
Nurture prospects further down the funnel and re-engage customers.
Frontend and backend development for enterprises all over globe.
For most businesses that want to optimize web queries.
Improve your sales with overall better and user-friendly graphical solutions solutions.
Scale your companies demand generation with our marketplace expertise.
Speak with our performance marketing experts about your growth goals and challenges.
We'll be happy to have a friendly chat, and offer some helpful advice.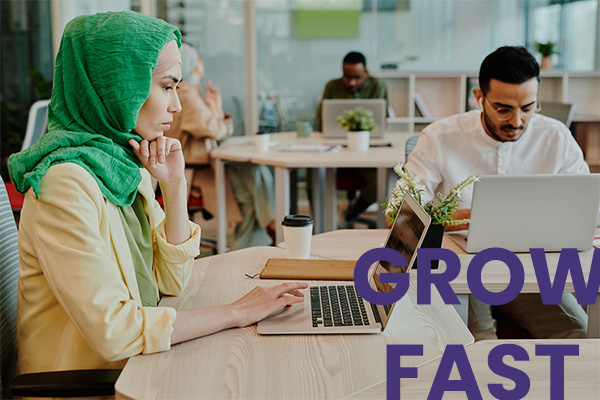 Our team have the ability to make it real.
Just a marketing company in Qatar that is really good at growing companies.
وكالة تسويق في قطر
As a marketing agency in qatar, we understand the unique challenges that businesses in the GCC region faces in terms of digital marketing. From building a strong online presence to reaching target audiences, we have the expertise to help companies in Doha succeed in the digital space. We believe that we are one of the best marketing companies in Qatar.
Our team of experienced professionals specializes in a variety of digital marketing services, including search engine optimization (SEO), email marketing, social media marketing, pay-per-click advertising, and content marketing and more!
We work closely with our clients to understand their goals and tailor our strategies to meet their specific needs.
One of the key ways we help companies in Qatar with their digital marketing is through our proven SEO methods.
We conduct thorough keyword research to identify the terms and phrases that are most relevant to your business and target audience. We then optimize your website and content to rank well in search engine results for those keywords, helping to increase visibility and drive more traffic to your site.
In addition to SEO, we also offer a range of other digital marketing services to help companies in Doha build their brand and reach more customers. Whether it's through social media marketing, pay-per-click advertising, or content marketing, we have the expertise to help your business succeed in the digital space.
If you're looking for a marketing agency in qatar that can help take your companies digital marketing to the next level, look no further. Contact us today to learn more about how we can help your business thrive in the digital age with awesome results.
Examples of services we offer
– Google Tag Manager Setup
– Google Analytics 4 Setup
– Subdomain tracking
– Goal Setup and Lead tracking
– Funnel Setup
– Filter implementation
– Facebook Conversion API
– Mets Pixel
– Cross domain tracking
– GA4 Shopify Ecommerce tracking
– Iframe Tracking
– Looker Studio Report
– WooCommerce Tracking setup
– Shopify E-commerce Tracking setup
– Magento 2, Wix, Open cart, BigCommerc, Squarespace, prestashop Tracking
– ClickFunnel Tracking setup
– Unbounce Tracking setup
– Leadpage Tracking Setup
– Typeform Tracking
– Linkedin tracking
– Pinterest Tracking
– Adroll tracking 
– TikTok Tracking 
– Thrivecart, smart cart tracking
– Dynamic Remarketing Google Ads 
– Attribution and reporting 
– Custom Form Tracking 
– Booking Tracking 
– Mindbody or booker tracking 
– Bing Ad Conversion Tracking 
– Microsoft Ad tracking 
– Enhanced Ecommerce Google Analytics 4 Tracking
– Google Ads Conversion Tracking and Event Setup 
– Google Analytics Goal, Event, E-commerce Tracking Setup 
– WineDirect Ecommerce Tracking 
– Google Ads enhanced conversion tracking 
– Google Looker Studio or data Studio Report 
– Custom report building 
– Approval of Google Merchant Suspension Misrepresentation 
– Google Ads Dynamic Remarketing Setup